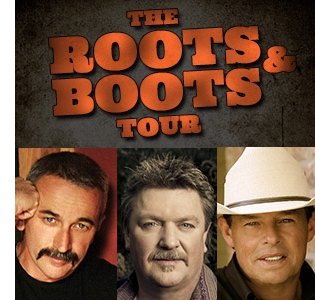 Nashville, Tenn. (February 25, 2013) - Country
music veterans
Sammy Kershaw
,
Aaron Tippin
and
Joe Diffie
have teamed up for a national tour they're calling "
Roots & Boots
."
On stage together, the trio perform acoustic versions of their more than 40 Top Ten hit songs, as well as share stories about the roots of their music.
"The 'Roots & Boots' tour is three friends who love country music having a good time, telling jokes about each other and telling jokes on each other," says Kershaw. "We tell stories behind all of our songs. It's a great show, so don't be square, be there!"
Diffie adds, "Sam, Aaron and I have a great time doing these shows and the fans do too. It's always an adventure."
Tippin says of the tour, "Being onstage with Sammy and Joe is a blast. I admire both of these guys so much. We have a great time together and the show is different every night and always a lot of fun."
Kershaw's platinum-selling albums have had hits such as "She Don't Know She's Beautiful," "I Can't Reach Her Anymore," "Vidalia" and "National Working Woman's Holiday."
Tippin's fame was launched with the release of his uncompromising single "You've Got to Stand For Something." He followed that with chart toppers including "I Wouldn't Have It Any Other Way."
Since he first topped the charts in 1990 with "Home," Diffie has delivered twelve #1 hits, twenty top 10's and four gold and platinum albums.
2013 "Roots & Boots" Tour Dates:
March 8 - Wilkesboro, NC - John A. Walker Community Center
March 12 - Palm Desert, CA - McCallum Theatre for the Performing Arts
March 13 - Modesto, CA - Gallo Center for the Arts
March 14 - Redding, CA - The Cascade Theatre
March 15 - La Mirada, CA - La Mirada Theatre for the Performing Arts
March 16 - Chandler, AZ - Chandler Center for the Arts
March 17 - El Cajon, CA - Sycuan Casino
March 18 - Folsom, CA - Three Stages At Folsom Lake College
March 23 - Rising Sun, IN - Rising Star Casino Resort
March 24 - Meadville, PA - Alleghey College Auditorium
March 29 - Mahnomen, MN - Shooting Star Casino
April 6 - Biloxi, MS - IP Casino Resort & Spa / Convention Center
April 19 - Moncton, Canada - The Centre At Casino New Brunswick
May 10 - Branson, MO - RFD-TV Theatre
May 11 - Sand Springs, OK - Osage Casino - Sand Springs
May 24 - Pigeon Forge, TN - Country Tonite Theatre
***Additional dates to be announced soon
# # #
Media Contacts:
For Sammy Kershaw:
Absolute Publicity
615-275-8380
For Aaron Tippin:
For Joe Diffie:
Big Show Music Co